Full-Service Riverside Community Association Management
Progressive Association Management has the experience and the capacity you need for better community association management. Sure, there are several large companies you can choose when you're looking for HOA management. We offer something better: personalized, full-service management with all the resources, expertise, and systems that keep your association achieving its goals for your community. Smart growth is our standard. Our community managers are responsible for a maximum of three communities and 500 owners. This leads to a more effective, more efficient, and far more customized management process.
Management Services for Thriving Riverside Community Associations
Trustworthy, Full-Service HOA Management
Our full-service plan includes every detail in the community management you need.
Assessment Preparation and Dissemination. We invoice for monthly homeowner assessments, providing online reports and payment options.

Emergency Response. Contact us 24 hours a day and 365 days a year if there's a maintenance or safety emergency.

Board Meeting Support. Managing your agenda and action items.

Property Inspections. We inspect monthly, providing inspection reports that include photos and videos.

Support for Rules and Regulations. Enforcement of rules and regulations and keeping your association legally compliant.

Architectural Review. We'll inspect all your proposed improvements and modifications to ensure compliance and approval.

Vendor Management. Leverage our network of high-quality vendors. We keep an eye on pricing and performance.

Election Support.
Complete Financial Management
Our team helps you track every dollar and ensure homeowners are paying HOA dues and assessments.
Monthly Financial Statements. Customized balance sheets with bank statement reconciliation, current month actual vs. budget, and year-to-date actual vs. budget comparisons.

Record Keeping. Clear, accurate, and detailed financial records are ready for auditors, board review, and CPAs.

Fund Management. Monitoring reserve funds with investment solutions concerning FDIC insurance and market rates of interest.

Collection Services. Delinquency correspondence and Board-approved collection measures.

Direct Deposit. Electronic accounting with deposits and receipts in separate association accounts.

Vendor Billing. Careful review and payment of vendor invoices.

Budget Preparation. Annual cash flow analysis with recommendations on the operating budget and capital reserves.
Community Association Collections
Stop collecting overdue payments from your neighbors. We can do it with less stress and better results. We're objective, fair, and effective.
Continuous Monitoring. Delinquencies are often market-driven. We'll use our in-house collections department to monitor overdue accounts and collect.

Third-Party Reports. We want to understand why payments fall behind. Generating monthly delinquency summaries, we can search for personal assets and equity as well as third-party defaults. It helps us take more informed steps.

Legal Support and Resources. Board members need to consider all of their legal options when we're working to collect unpaid assessments and overdue payments. The benefits and detriments of a Judicial Foreclosure, Non-Judicial Foreclosure, and Small Claims Court Action are explored while actions are under consideration.
Our experience managing local HOA communities in Riverside allows us to partner with legal experts, collections
Ask for a Free Association Management Consultation
Do you know you need professional HOA management, but you're overwhelmed by your options? We understand, and we want to help. Take a look at our transparent pricing. Our payment structure is simple, and your fees will depend on your unique needs. We'll talk about your needs and expectations, then provide a simple, one-page proposal.
Our fee is based on three factors: the number of owners in your community, the number of your monthly dues, and the variables of each community.
The Progressive Hybrid Pricing Plan
Association Management in Riverside is What We Do Best
And we do it for competitive fees.
Here's what to consider when we're pricing our community association management services:
Volume: The Number of Units Managed.

Income: Total of Monthly Homeowner Dues.
Other considerations may raise or lower what we charge. Maybe you're dealing with litigation in your community or your reserve level is dangerously low. Perhaps you're planning some major renovations. Assuming your community is healthy and litigation-free, we keep our pricing simple to understand and calculate. Check out our handy chart:
OUR "HYBRID" PRICING PLAN
| | | | | |
| --- | --- | --- | --- | --- |
| | | | | |
| | | | | |
| | | | | |
| 10 | $300 | $30 | $60 | $360 |
| 20 | $300 | $25 | $120 | $620 |
| 30 | $300 | $20 | $180 | $780 |
| 40 | $300 | $15 | $240 | $840 |
| 50 | $300 | $12 | $300 | $900 |
| 75 | $300 | $10 | $450 | $1,200 |
| 100 | $300 | $8 | $600 | $1,400 |
| 150 | $300 | $6 | $900 | $1,800 |
| 200+ | $300 | $5 | $1200 | $2,200 |
In this example, the monthly dues are $300. You must take your monthly dues, multiply by the number of owners, multiply by 2%. For the base fee, multiply your number of owners times the cost per unit. Add both for the total fee.
10 Units
Monthly Dues:
$300
Fee Per Unit:
$30
2% of Total Dues:
$60
Total Monthly Fee:
$360
20 Units
Monthly Dues:
$300
Fee Per Unit:
$25
2% of Total Dues:
$120
Total Monthly Fee:
$620
30 Units
Monthly Dues:
$300
Cost Per Unit:
$20
2% of Total Dues:
$180
Total:
$780
40 Units
Monthly Dues:
$300
Cost Per Unit:
$15
2% of Total Dues:
$240
Total:
$840
50 Units
Monthly Dues:
$300
Cost Per Unit:
$12
2% of Total Dues:
$300
Total:
$900
75 Units
Monthly Dues:
$300
Cost Per Unit:
$10
2% of Total Dues:
$450
Total:
$1,200
100 Units
Monthly Dues:
$300
Cost Per Unit:
$8
2% of Total Dues:
$600
Total:
$1,400
150 Units
Monthly Dues:
$300
Cost Per Unit:
$6
2% of Total Dues:
$900
Total:
$1,800
200 Units
Monthly Dues:
$300
Cost Per Unit:
$5
2% of Total Dues:
$1,200
Total:
$2,200
Expert HOA Property Management in Riverside
The Residential and Commercial Community Management Experts
At Progressive Association Management, we combine our ability to provide personalized service with the investment we've made in technology. This leads to customized management plans that deliver what you need and ignore what you don't. We want to know more about your association and all the things that make it different.
Here are a few ways we stand out and above other companies:
Flat Management Fee
The estimate we provide after evaluating your community will be one flat fee. No hidden or surprise costs. You can budget easily and accurately.
Leveraging Local Expertise
Location is everything and responsiveness, too. We only manage communities that are within 30 minutes of us.
Responsive Communication
We value relationships and we invest in communication that's transparent, open, safe, and responsive.
4 Performance Guarantees
Promises don't work. We offer guarantees instead. If we don't perform as promised, we hold ourselves accountable.
Legal Knowledge
Compliance with The Davis-Stirling Act and all the federal, state, and local laws that apply to your community. We stay current.
Community Care
We don't just manage communities, we care about them. Tell us about your neighborhood – we want to know everything.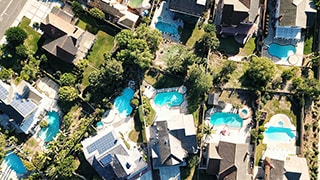 We are the best Property Management Company in the Counties of Los Angeles, Orange, Riverside, San Bernardino and San Diego..
Progressive Property Management Inc. has been involved in the local real estate and rental market for years. We understand the price points, the tenant pool, and the local vendors and contractors.
Got Questions About Property Management?
Progressive Property Management Inc.
1290 N Hancock St, Ste 202, Anaheim, CA, 92807
202 S. Lake, Pasadena, CA, 91101
1-800-665-2149 | (714) 528-5522
info@progressive-am.com
CA DRE #01958885