Full-Service Anaheim Community Association Management Company by Progressive Association Management Inc.
There are many association management companies, so why should you consider Progressive Association Management?  If you are looking for better association management and not necessarily bigger, we may be a good fit for your community.  Unlike the "big" companies you can choose, whose Community Managers manage 10 or more associations and 1,000 to 2,000 owners at a time, our Community Managers manage no more than 4 communities and no more than 400 owners.  We don't just count your community's monthly management fee, we care about you.
Management Services for Anaheim Associations
Full-service management. That might be something you hear a lot. But, what does it mean?
For our team, it means you can turn these complex and time-consuming tasks over to us. Here's what we can do for you:
Assessment Preparation and Dissemination. We'll prepare your monthly homeowner assessment invoices and provide online reports and payment options.
Emergency Response. We're here 24 hours a day and 365 days a year to answer calls for help and ensure your residents are safe and secure.
Board Meeting Help. We support your agenda and protect your time.
Property Inspections. Monthly inspections by your community manager, including on-site vendor follow-up. You'll receive property inspection reports with digital photos and videos.
Support for Rules and Regulations. We can handle enforcement of all association rules and state, local, and federal laws.
Architectural Review. We inspect and approve any architectural improvements or modifications efficiently, electronically, and in accordance with association standards.
Vendor Management. We partner with the best vendors and contractors, and your community manager will handle relationships, work orders, and communication. We keep an eye on pricing, performance, and workmanship.
Election Support. Your annual elections are efficient; we'll prepare and distribute annual election packages and manage any meetings.
Member Communication. A happy community depends on proactive and transparent communication. We make that happen with our innovative online portal, or availability 24/7, and our commitment to building and maintaining relationships.
Less hassle. More happiness.
Financial Management Services
Financial management is critical to your association. You need to watch every dollar, and make sure that everyone is contributing what they agree to when they buy a home in your community. You also need to account for every dollar that's earned and every dollar that's spent.
We take care of the following financial matters for your HOA or community association:
Monthly Financial Statements. Customized statements that may include balance sheets, reconciled bank statements, current month actual vs. budget and year-to-date actual vs. budget comparison information.
Record Keeping Services. Financial records that are clear, accurate, and detailed so auditors have the information they need to conduct annual audits and prepare tax returns.
Fund Management. Monitoring reserve funds with investment solutions concerning FDIC insurance and market rates of interest.
Collection Services. Sending out reminder letters to all delinquent accounts and, if dues remain unpaid, a collection process in accordance with Board-approved policies.
Direct Deposit. Electronic accounting with deposits and receipts in separate association accounts.
Vendor Billing. We'll review and verify all vendor invoices, and work with the Board Treasurer to verify services and code them for payment.
Budget Preparation. Review of yearly cash flow reports to make recommendations on funding for operating budgets and capital reserves. We also assist with the preparation of the annual operating budget.
Audit Coordination. Gathering proposals from various audit firms and, once chosen, provide all necessary documentation.
Less hassle. More happiness.
Association Collections Services
One of the activities most HOA boards dread the most is collecting overdue payments and assessments. It's hard to be responsible for holding your neighbors accountable to their financial obligations. It's uncomfortable. That's why you need the professional and respectful team at Progressive Association Management. We are your unbiased third-party that's able to treat your residents and members fairly and consistently.
We follow the processes and rules set out in your governing documents to provide:
Continuous Monitoring. The market can usually drive delinquencies when it comes to association dues. Our in-house collections department continuously monitors the delinquencies within your association and takes prompt action to ensure that past due assessments are collected.
Third Party Reports. Understanding a homeowner's situation enables the board to make better collection decisions. We generate monthly delinquency summaries of all personal asset searches, property equity and third party defaults, helping to provide valuable insight as to the best direction a board can take in its collection efforts.
Legal Support and Guidance. Board members must understand all the legal options available when collecting unpaid assessments. The benefits and detriments of a Judicial Foreclosure, Non-Judicial Foreclosure and Small Claims Court Action are effectively communicated to the board. Different circumstances can necessitate alternate collection strategies.
We work with legal representatives, collections professionals, and our community managers to work with homeowners on collections, payment plan agreements, and if necessary, filing the appropriate liens or small claims actions on delinquent accounts. Our team approach maximizes collections and minimizes your legal expenditures.
Less hassle. More happiness.
Free Consultation
Picking a new management company can be challenging and changing companies daunting.  We keep our pricing completely transparent, but it can vary for your association depending on a few variables such as any ongoing litigation, your level of reserves and other factors.  After discussing your association's current situation, we will send over a one page proposal, and if requested, a complete contract with our addendums. We strive to provide a higher level of service than we hope at the same monthly fee you are currently paying.  Our fee is based on three factors: the number of owners in your community, the amount of your monthly dues, and the variables previously mentioned.
The Progressive "Hybrid" Pricing Plan
Association Management is Complicated; the Fee You Pay Should Not Be.
Unlike residential management, there are two major factors to consider when pricing our services:
The Number of Units Under Management.
The Amount of the Monthly Homeowner Dues.
There are other factors that may force us to adjust our pricing such as any current litigation at your community, the reserve level and if you are anticipating any major projects, but assuming your community is healthy and litigation free, we keep our pricing simple to understand and to calculate:
OUR "HYBRID" PRICING PLAN
| | | | | | |
| --- | --- | --- | --- | --- | --- |
| | | | | | |
| | | | | | |
| | | | | | |
| 10 | $350 | $30 | $105 | $405 | $40.50 |
| 20 | $350 | $25 | $210 | $710 | $35.50 |
| 30 | $350 | $20 | $315 | $915 | $30.50 |
| 40 | $350 | $15 | $420 | $1,020 | $25.50 |
| 50 | $350 | $12 | $525 | $1,125 | $22.50 |
| 75 | $350 | $10 | $788 | $1,538 | $20.50 |
| 100 | $350 | $8 | $1,050 | $1,850 | $18.50 |
| 150 | $350 | $6 | $1,575 | $2,475 | $16.50 |
| 200 | $350 | $5 | $2100 | $3,100 | $15.50 |
The above pricing is subject to change depending on association factors. We reserve the right to charge a minimum monthly fee. Please call for your association's specific proposal.
10 Units
Monthly Dues:
$350
Flat Fee Per Owner:
$30
3% of Total Dues:
$105
Total Monthly Fees:
$405
Cost Per Owner Per Month:
$40.50
20 Units
Monthly Dues:
$350
Flat Fee Per Owner:
$25
3% of Total Dues:
$210
Total Monthly Fees:
$710
Cost Per Owner Per Month:
$35.50
30 Units
Monthly Dues:
$350
Flat Fee Per Owner:
$20
3% of Total Dues:
$315
Total Monthly Fees:
$915
Cost Per Owner Per Month:
$30.50
40 Units
Monthly Dues:
$350
Flat Fee Per Owner:
$15
3% of Total Dues:
$420
Total Monthly Fees:
$1,020
Cost Per Owner Per Month:
$25.50
50 Units
Monthly Dues:
$350
Flat Fee Per Owner:
$12
3% of Total Dues:
$525
Total Monthly Fees:
$1,125
Cost Per Owner Per Month:
$22.50
75 Units
Monthly Dues:
$350
Flat Fee Per Owner:
$10
3% of Total Dues:
$788
Total Monthly Fees:
$1,538
Cost Per Owner Per Month:
$20.50
100 Units
Monthly Dues:
$350
Flat Fee Per Owner:
$8
3% of Total Dues:
$1,050
Total Monthly Fees:
$1,850
Cost Per Owner Per Month:
$18.50
150 Units
Monthly Dues:
$350
Flat Fee Per Owner:
$6
3% of Total Dues:
$1,575
Total Monthly Fees:
$2,475
Cost Per Owner Per Month:
$16.50
200 Units
Monthly Dues:
$350
Flat Fee Per Owner:
$5
3% of Total Dues:
$2100
Total Monthly Fees:
$3100
Cost Per Owner Per Month:
$15.50
Anaheim Property Management Experts
The Residential and Commercial Community Management Experts
There are hundreds of property management companies, and most try to be "one size fits all". At Progressive Association Management we have the technology, tools and specifically trained personnel to ensure that we manage every community and association efficiently and effectively. Here are a few ways we stand out and above other companies:
Flat Fees - No Fuss
Once we determine the pricing for your community, there will be no hidden fees or surprise costs. You can budget our management costs accurately
Anywhere in Southern California in 30 Minutes or Less
We only manage homeowner associations that are within 30 minutes of any of our offices. Whether your community is in Orange, San Diego or Riverside; we can be there in a half-hour or less.
Quick Communication
Just like a good marriage, good communication is critical between the board and the management company. We will respond promptly to any phone call, text or email.
The 4 Performance Guarantees
We don't just promise professional community management, we guarantee it. If we don't perform as promised, we pay a price.
Keep it Legal
Boards must stay in compliance with a myriad of laws and regulations, including the Davis-Stirling Act. We review and educate board members on Association documents, current laws and protect them from personal liability.
Community Care
We don't just manage communities, we care about them. We will be knowledgeable about your neighborhood and well versed in its history and background.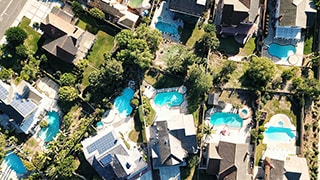 We are the best Property Management Company in the Counties of Los Angeles, Orange, Riverside, San Bernardino and San Diego..
Progressive Property Management Inc. has been involved in the local real estate and rental market for years. We understand the price points, the tenant pool, and the local vendors and contractors.
Got Questions About Property Management?
Progressive Property Management Inc.
1290 N Hancock St, Ste 202, Anaheim, CA, 92807
202 S. Lake, Pasadena, CA, 91101
1-800-665-2149 | (714) 528-5522
info@progressive-am.com
CA DRE #01958885